Like us on Facebook

THE BOY IN THE SUITCASE Holocaust Family Stories of Survival©
"It is important to continue to tell the stories of those brutally humiliated, tortured, and murdered during the Holocaust….This book ensures that the innocent victims will no longer remain anonymous in their deaths. As the Maggid of her ancestral Dubno before her, Sheryl tells unique and inspirational stories in her book. In doing so, she honors the memory of the brave resistors, rescuers, and especially the families whose ultimate revenge is their continuance today."
-Zvi Bielski, son of Zus Bielski of the Bielski Brothers Brigade
"I am breathless! I had my family read our chapter and we are overwhelmed. Thank you for doing this and for asking me to take part. This book is a legacy that I would be proud to leave my children."
-Shirley, second generation daughter of survivors
"I just have to tell you how much I admire Sheryl's intellectual curiosity, talent, appreciation for heritage and history, determination, and energy."
-Shelly, retired teacher, New York City

Holocaust Presentation at Sawgrass Bay Elementary School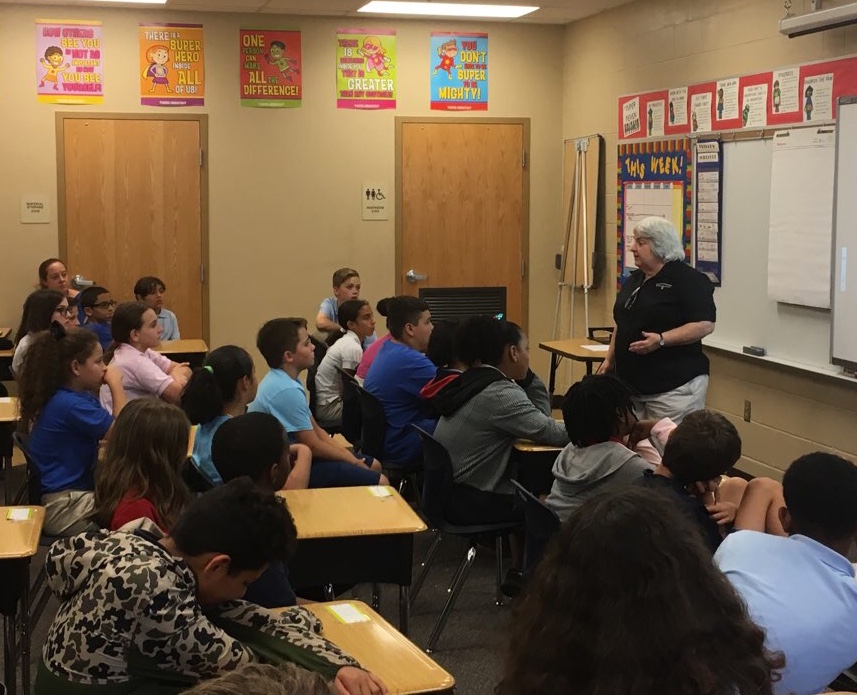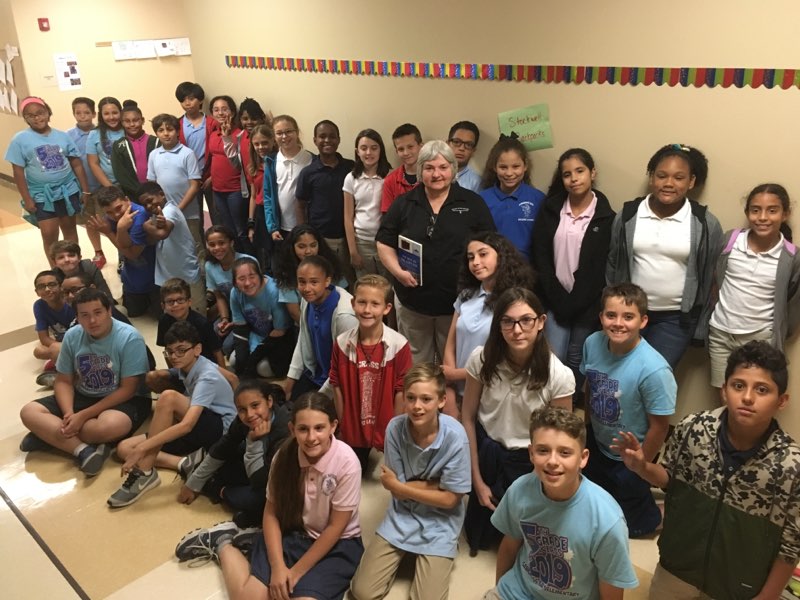 Grade 5 on May 3, 2019. Students asked fabulous questions. 45 minute event lasted 90 minutes, as teachers & students wanted to learn more about my family & others impacted by the Holocaust.

Gale Sussman & Sheryl presenting on the Holocaust and Displaced Persons camps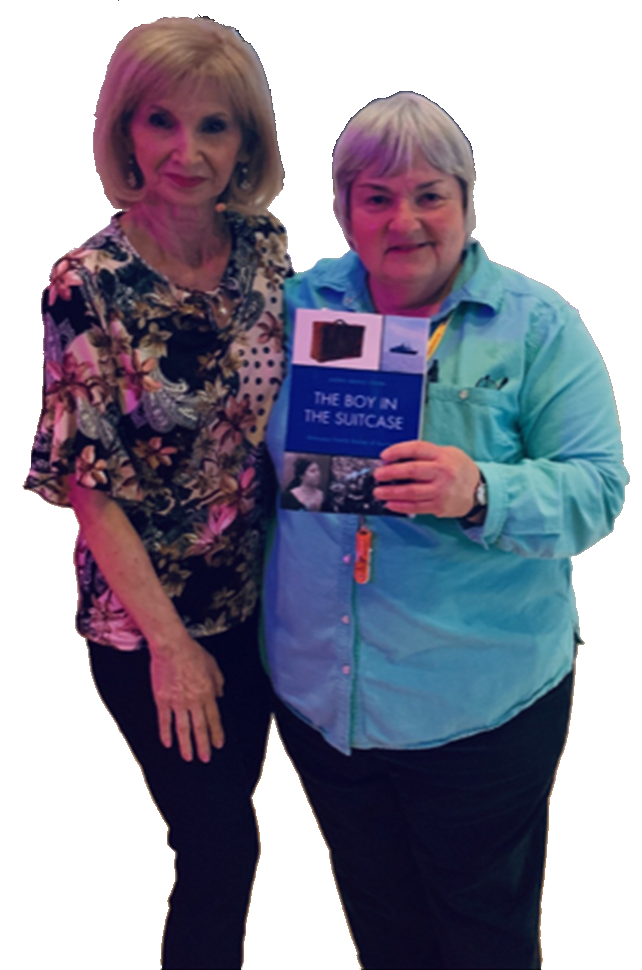 Gale was born in a Displaced Persons camp in Germany.
This workshop is available live on powerpoint by contacting the author

5TH GRADERS HEAR PERSONAL ACCOUNT OF HOLOCAUST HISTORY
Fifth-grade students listened silently in the media center at Sawgrass Bay Elementary School recently as a familiar school staff member told her personal account of what happened to her family during World War II and, specifically, the Holocaust.
No wiggles. No whispers. Just wide-eyed attention focused on the words of Sheryl Needle Cohn, Ed.D., an author and playwright who works as a teaching assistant at the school.
"All these relatives," she said, pointing to a black-and-white photo on the screen, "they couldn't get out, so they were murdered. This area here is where the ashes of my family are. They were marched from their home, forced to dig a ditch, lined up and shot."
The presentation was to prepare students for their study of the Alan Gratz novel, Prisoner B-3087, about a Jewish boy in the 1930s who is captured by the Nazis. They started reading the book on Monday, April 8.
"The book is based on a true story, and the age of the main character is the current age of our students,'' said Leslie Maxson, a fifth-grade teacher at Sawgrass, who serves as the team lead. She and the other English Language Arts teachers on the team arranged the presentation as part of the lesson. "Students will learn about history though this book and how determination and hope are important in our lives," she said.
But first, they learned those lessons from Dr. Cohn, the author of The Boy in the Suitcase, a compilation of nine family stories of victims and survivors of the Holocaust, which she wrote after discovering more about her family history.
"I did not think that I would be a published author one day," she said. "But upon discovering who the people were in a photograph in a box in the bottom of my grandmother's closet in Brooklyn, NY, I began my own emotional genealogical journey."
The journey took Cohn to her ancestral homeland of Dubno, a small village in the former Russian-Polish-Eastern European territories. There, she located the ditch where her relatives had been shot by roving Nazi troops. She returned to America and began telling their story. In return, other families shared theirs. Many of those stories, including the harrowing tale of German parents who escaped to the Dominican Republic by hiding their newborn son in a suitcase, are now in her book.
Dr. Cohn, who in 2008 was selected to study at the International School for Holocaust Studies in Jerusalem, said she wants to help students expand their knowledge of this part of history, a subject the state of Florida requires be taught in Social Studies. She recognizes that it can be difficult emotionally for some children to process the material. So, she said, she will mediate the Holocaust photographs and vocabulary with dialogue that explains, teaches and stimulates thinking.
"They should take away an understanding of how cruel prejudice, discrimination, hatred, lies, ignorance and bullying can be," she said prior to her presentation. "In spite of hardships faced by Jews during the Holocaust, I end each section with the inspirational message, 'We are still here.' Due to the bravery of our relatives, we the children, second and third generations, survived and are here to tell the stories. Respect for diversity and respecting the rights of all citizens, regardless of race and religion should be the culminating message."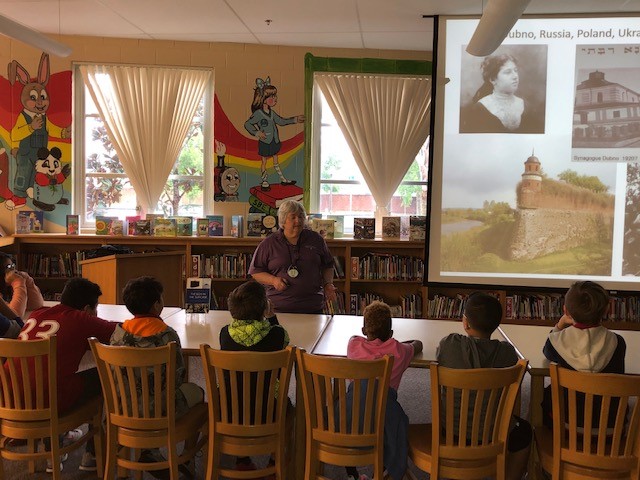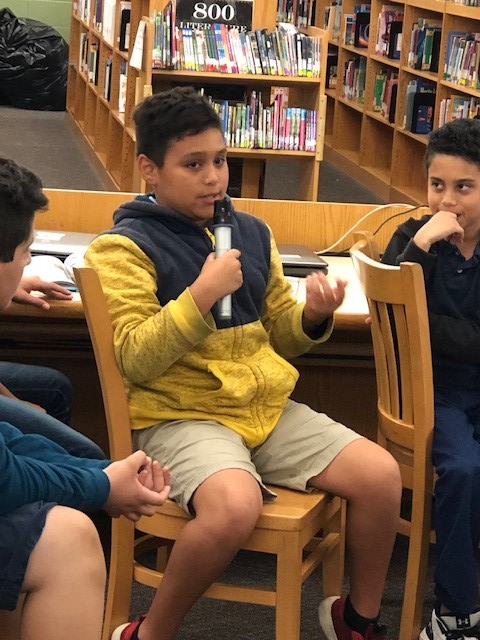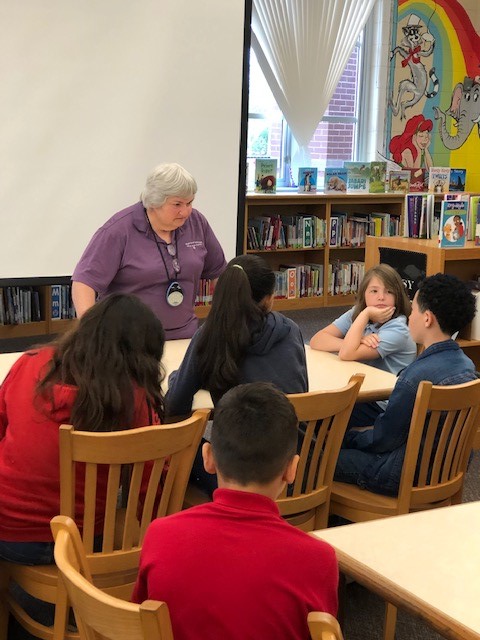 Sheryl Needle Cohn Addresses Historical Society
How does it happen that an educator from New York City ends up a Holocaust Scholar, author and screenplay writer?  In the case of Sheryl Needle Cohn it all started with a box full of loose, old black & white photographs of people she had never met.  Ms. Cohn's grandmother, an immigrant from Russia in the early 1900's had passed away and she was sorting through her grandmother's things.  Those photographs started a journey that still continues today. It has taken Ms. Cohn back to the village where her grandmother was born, to Israel, to Belgium, and even to the Dominican Republic.
As she looked into her family history Ms. Cohn learned that almost all the people in those old, black & white photographs were members of her family and victims of the Holocaust. And so her journey began. After a great deal of research in Europe and Israel, she started going around our nation giving speeches about the Holocaust. Very often, after her talk, someone would come up to her and say, "Have I got a survival story for you" and she would listen and jot down notes on an index card.  Eventually, she had quite a stack of cards and decided that these stories needed to be told. Which is exactly what she did in her book The Boy In The Suitcase, Holocaust Family Stories of Survival. Each chapter of the book is devoted to a specific family's story.  
One chapter in the book, "A Baker's Loaf of Life: A Generation Saved by the Resistance Quaregnon, Belgium," has gotten a lot of attention and Ms. Cohn worked with  screenwriters to create the script for a motion picture based on those events.  While still in process, she is hopeful that it will someday come to pass that this amazing story of love and bravery will make it to the silver screen.
History is the story individual people.  It is being made today and affects each and every one of us.  Those of us living in the Clermont area are fortunate to have a beautiful, Historic Village dedicated to preserving our past.  If you are interested in history in general or the history of Lake County in particular, contact the South Lake County Historical Society by going to their website, ClermontVillage.org; by calling their manager, Roxanne Brown, at 352-432-3496 or by attending their membership meetings which are held on the second Monday of every month at 7:00 PM in the Train Depot in the Historic Village.  The next meeting will be on February 11th.

The following are photos and comments from my presentation at Woodrow Wilson Grade School #19

Student Emails Via Their L.A.Teacher Ms.Helen Needle
Woodrow Wilson #19 Language Arts Literacy 6th Grade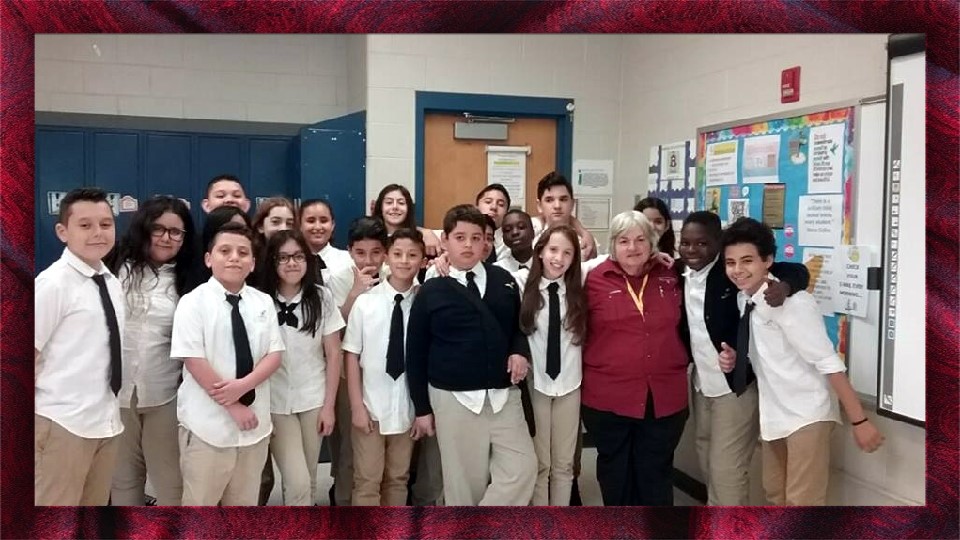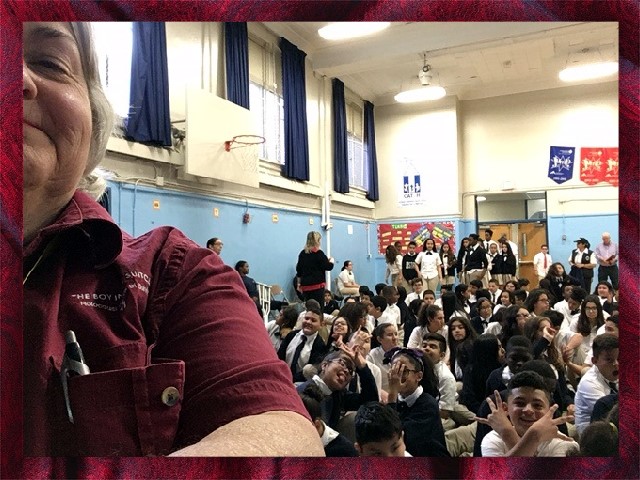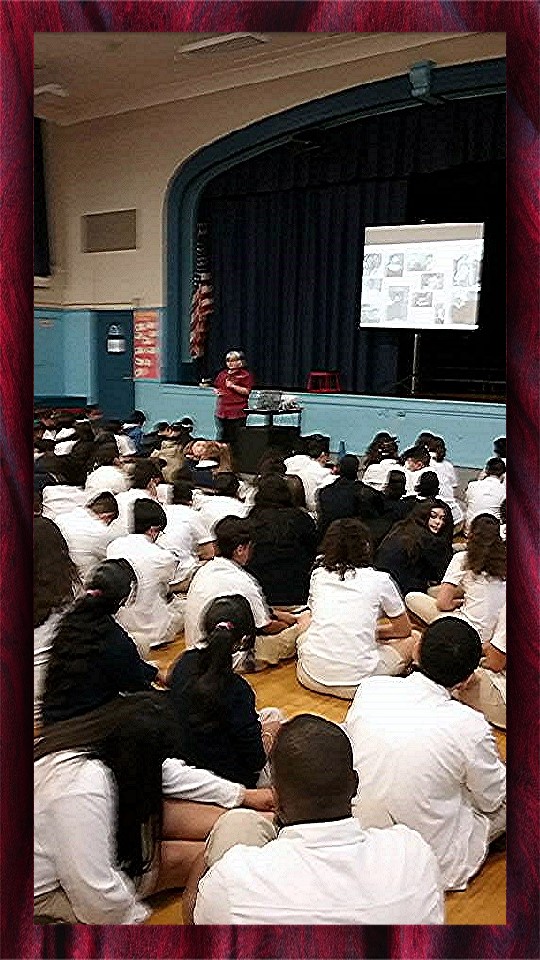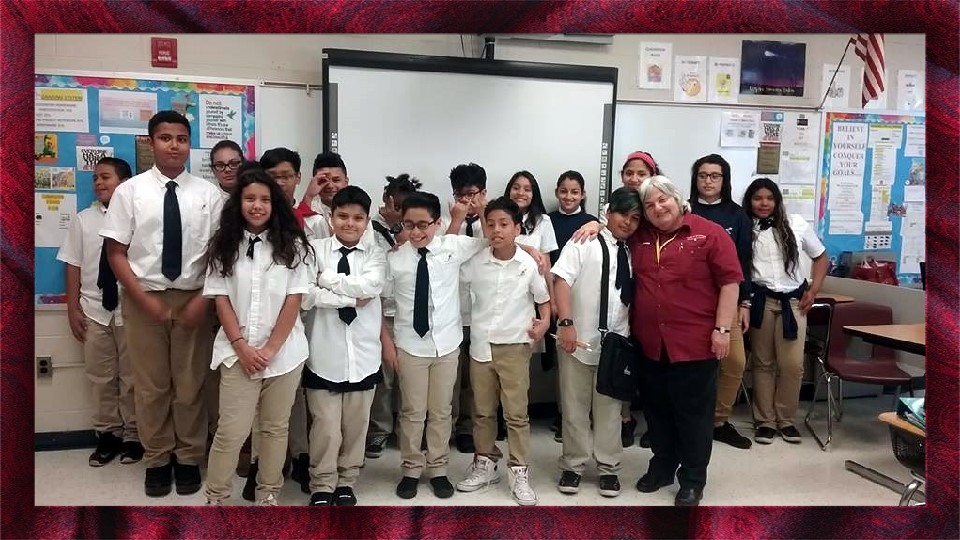 Subject: Thank You Vaudsen- Grade 6- 108
Dear Dr. Cohn, Thank you for the presentation that you showed us on
Friday June 9. I learned some new things I did not know about the Holocaust.
It's always nice to learn facts about new stuff that you did not know a lot
about. Any way I have a question. What made you want to study the Holocaust? Just one day just felt like it, or you always just wanted to study about the holocaust because your family was there at the time. One more question. At what age did you start to study the holocaust? Yours truly, Vaudsen
Subject: Re: thank- you Vaudsen
Hello Vaudsen
I began studying the Holocaust as an adult when I discovered a photograph of
people I did not recognize after my Grandma Bella died. It lead me to discover
my murdered family in Dubno. Thanks for your question.
PS: Dr.Cohn, Vauden was so happy that you took the time to answer his question…..Thank you again for making his day. Ms.Needle
Subject: thank you-jonathan
menezes-grade 6
Dear Dr. Cohn, Thank you for teaching me about the Holocaust. I did not know that all this stuff could happen in one event. You must be the most coolest person i know you are nice never mean. I am so glad that you survived the Holocaust and lived to tell
the story. I can't wait to see you again. Please come here one last time you I
can give my thanks to you. Thanks for your help and kindness. Just so you
remember I am the boy with the hair like your son…….your truly, jonathan menezes
Helen, these emails are warming my heart & making me laugh. I love them.
I'll reply to Jonathan & others soon, but let him know I certainly remember him
& his great hairdo & Stephanie, my Marine girl. Sheryl
From 6th Grade NJ Teacher 6.13.17
Sheryl.. After all you did a thank you is not enough. I had the kids write Thank you and more are to come….I read each one and knew that you would love to see them…. It shows you that they did listen and wanted to learn….Great Presentation!!!!!!!
OH… a student in 4th grade told me they bought your book. The Principal & I want you back next year, so I told the girl you will sign her book. YOU MADE A DIFFERENCE…… Thank you…Ms.Needle
I had 100 thank you messages from the students!!!
Sheryl
Subject: Thank you- Isabella
Posso- grade 6-109
Dear Dr. Cohn, Thank you for coming to school # 19 on Friday June 9,
Gracias Dr.cohn por haber venido a la escuela #19 el Viernes
june 9, y enseñarme mas cosas sobre el Holocaust. Fue un placer conozer a
laguien tan buena como tu, Lo que yo aprendi sobre Holocaust es que muchas
personas murieron y que algunos familiares tuyos que tambien murieron. Yo
treat personas mejor ya que aprendi how people trataban a las personas en
el Holocaust, yo siempre e sido una persona Humilde, a mi me gusta ayudar a las
personas. la enseñanza que me llebo con todo lo que usted es que no
importa la diferencia de color, cultura nada de eso importa porque ene el mundo
todos somos iguales. sincerely, Isabella
Querida Isabella
Me encanta que estés orgulloso de tu herencia como latina.
Gracias por escribirme.
Estoy muy contento de que tengas respeto por los demás.
Usted será un adulto muy cariñoso cuando usted crezca para arriba.
Tener un verano seguro.
Sinceramente, Dr.Cohn
Re: Gracias Isabella : Thank you….I appreciate you answering my email Have a great summer. Looking forward to seeing you next year..Isabella

THE FOLLOWING PHOTOS ARE FROM MY ATLANTA HOLOCAUST APPEARANCE