PERSONAL APPEARANCES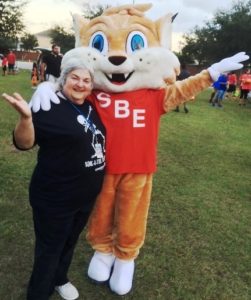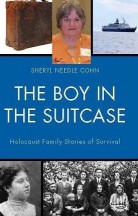 email: sheryl.cohn@cfl.rr.com

SUGGESTED PROGRAMS
Ages 10 – Adults, Language Arts, Theater, & Social Studies-World History
The Holocaust and Immigration 1938 to Present
The Heroic Role of Women in the Nazi Holocaust Resistance

Teaching the Holocaust through Inspirational Stories of Survival

Author Speak and Sign Events

Inside the Mind of an Author: How a Non-Fiction Book is Created

Readers Theatre One Act Play: Bella's Story, from Pogrom to Holocaust Teacher Professional 

Bullying and the Holocaust

Death by Bullets – Shtetls

Righteous Christian Saviors – Hidden Children

Displaced Persons Camps

Second Generation Trauma

Dominican Republic Jewminicans of Sosua

Comics, Cartoons, and Children of the Holocaust:  Dr. Seuss and Superman as anti-Nazi allegory

Quaregnon, Belgium:  A Brave Little Town's Bold Nazi Resistance

FANS
"YOU NEVER KNOW WHERE A FAN WILL APPEAR"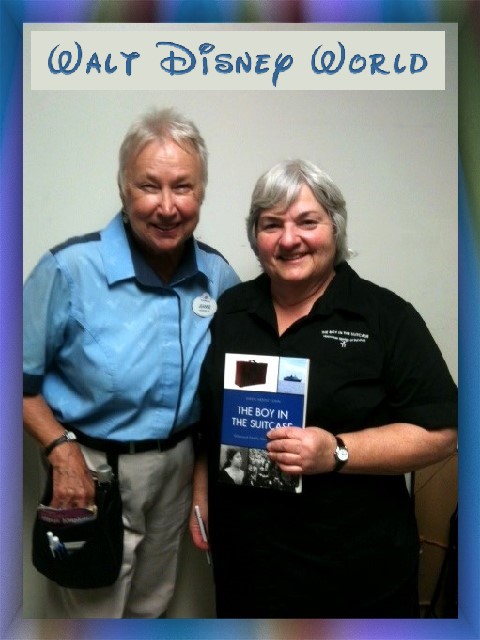 Jeanne is a Cast Member at Walt Disney World!  She recognized me and asked me to autograph my book which she had purchased and was carrying with her.  It truly is "A Small World After All"!!!

RECENT EVENTS
Holocaust and Immigration St. Paul's Church, Leesburg, Florida, November 15, 2018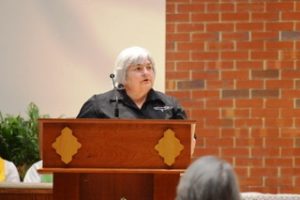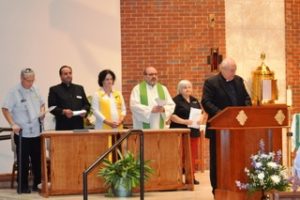 Interfaith Service Clergy every denomination discussing the state of immigration past & present in America

2015 Holocaust Remembrance Day Event:
West Osceola Library, Celebration, FL
Topic: "The Baker of Quaregnon & the Righteous Christians who saved Jewish children from the Nazis."

JBCN Tour Bookings
Feature:
The Boy in the Suitcase,
Holocaust Family Stories of Survival
Nationwide sponsored Author book tour by:
Jewish Book Council Network & Roman & Littlefield publishers

Cooper Memorial Lake County Library
"Comics, Cartoons, & Children of the Holocaust:
Dr. Seuss & Superman as anti-Nazi allegory"
and Book Signing Dr.Cohn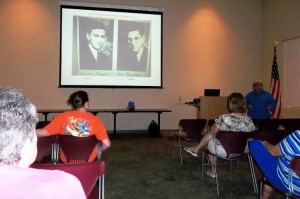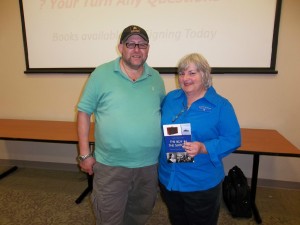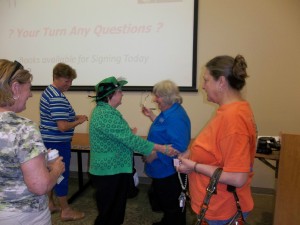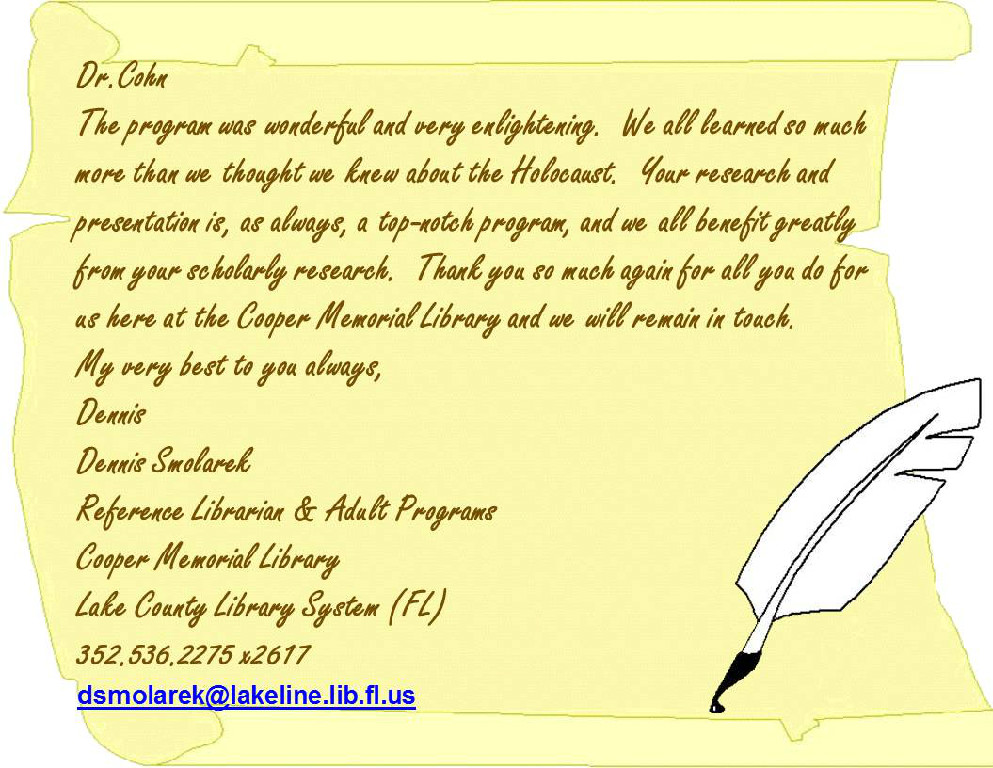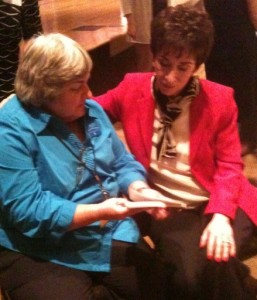 "From one Sheryl to another"
Sheryl autographing her book for Sheryl Sandberg, COO of Facebook and author of the book, "Lean In," daughter of Adele Sandberg
JBCN Tour Booking
David Posnack Jewish Community Center, Davie, FL


Dr. Cohn visited Grade 5 at Grassy Lake Elementary School in Lake County, Florida. Six students from Mrs. Wood & Mrs. Stout's classes performed Sheryl's Reader's Theatre Bella's Story. Both classes asked wonderful questions. It was an awesome visit!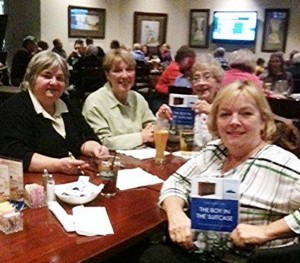 THE AUTHOR AND THE LEGEND
Ann Dupee, the Real Legend of Clermont, Lake County & her friends, Diane & Diane, dining at The Legends in Clermont with The Author, Sheryl.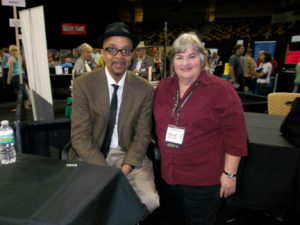 JAMES MC BRIDE, AUTHOR, MUSICIAN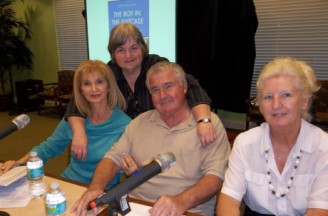 We Are Here
Gale Sussman, Sheryl Needle Cohn, Author, Pierre Haskelson,
Marcelle (Micke) Destrain Gimborn
Three of the survivors or second generation survivor children
whose stories are told in
THE BOY IN THE SUITCASE Family Stories of Survival©.

International Social Studies Society Conference, Orlando
Survivor photos used to teach the Holocaust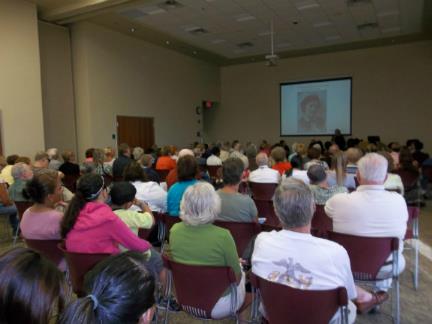 LAKE LIBRARY VIEWING
THE BOY IN THE SUITCASE Holocaust Family Stories of Survival©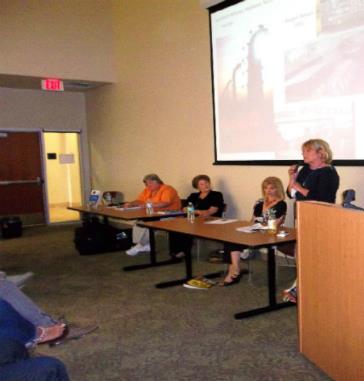 LAKE LIBRARY PANEL
THE BOY IN THE SUITCASE Holocaust Family Stories of Survival©
The author and second generation survivor children from the book.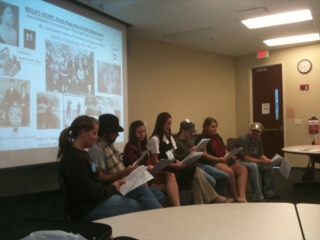 UNIVERSITY OF CENTRAL FLORIDA
Reader's Theatre – Bella's Story©
is a historical fiction Readers Theatre play based on the life of the playwright, Sara Lea's beloved paternal grandmother.